AREA 9 OF THE COTABATO BASIN: A PROJECT PROFILE OF SK LIGUASAN OIL AND GAS CORPORATION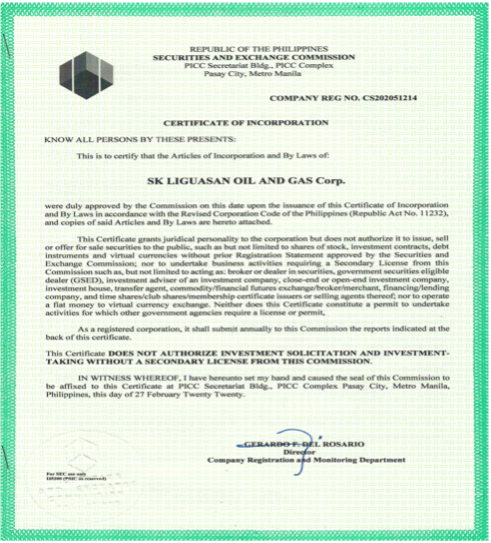 Cotabato Basin also includes Liguasan Marsh which for half a century has been the destination of petroleum explorers from the USA, China, Canada, Australia and Malaysia to include daring local prospectors.
On November 03, 2020, the DOE published that SKLOGC won the bid for Area 9 of the Philippine Conventional Energy Contracting Program (PCECP) for Cotabato Basin.
There are 3 oil and natural gas prospects and 1 lead in Area 9 namely: Gansing, Bambad and South Tantangan; and North Roxas Lead. In our proposal that we submitted to DOE for the November 3 bidding, our Chief Geologist in the appraisal of the technical data we got from the DOE Data Center found that Area 9 has the potential to contain 3.4 Trillion Cubic Feet (TCF) of natural gas and 4.8 Billion Barrels (BBL) of crude oil.
Barangay Gansing (village), Municipality of Lambayong, Province of Sultan Kudarat. PGIC conducted seismograms and profile sections analysis and the seismic data report was interpreted by D.V. Chipera and revised by C.W. Allen of W.M. Cabeen & Associates in October 1960. PGIC published in 1960 a Geological Report which became the basis for Maremco Mineral Corporation and Anglo Philippine Oil Corporation to forge an  Anglo-Maremco Joint  Venture   Agreement to explore and drill in 4 sites: Barangays Gansing (wells 1, 2 and 2A) and Lagao (1) in Lambayong; Barangay Bambad (1) in Isulan; and Barangay Pedtubo (1) in President Quirino all in Sultan Kudarat province from 1962 to 1972.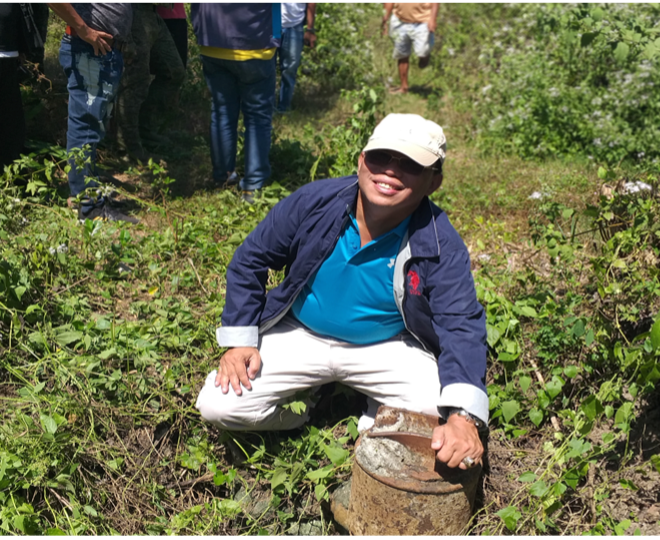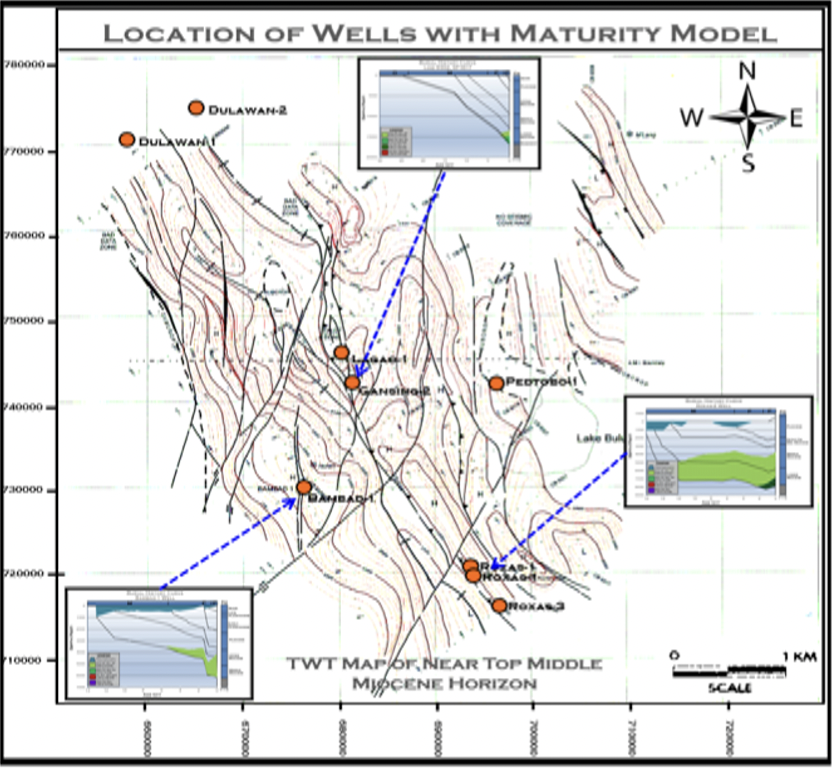 Furthermore, our team of experts (geo-scientists, geologists, petroleum and drill engineers) believed that presence of oil and gas in Area 9 is considered matured for exploration, extraction and production.
By winning the Area 9 PCECP bid, SKLOGC is committed to fulfill its exploration  obligation to DOE in 7 years.
SK Liguasan Oil and Gas Corporation (SKLOGC) is a Philippine registered oil and gas company that is authorized by the Department of Energy (DOE) to explore, extract and produce oil and gas in the country. It is based in Mindanao particularly in the so-called Cotabato Basin, a 1.2 million hectares of land encompassing the provinces of Sultan Kudarat, Maguindanao, South and North Cotabato. 
Area 9 is situated in the provinces of Sultan Kudarat and South Cotabato. It is part of Region XII, in the regional division of the Philippine Archipelago.
The Gansing Prospect is an old well. In August 1959 to July 1960, an American firm, the Petroleum Geophysical International Corporation, USA (PGIC) conducted a Gravity and Seismic Survey in
Sixty years ago, the   oil drill rig technology is not as modern as we have today. Anglo-Maremco experienced drilling difficulty in Gansing because of underneath high pressure. It failed to breach the depth of 4,000 feet and did not reach the 8,000 to 10,000 feet depth where the reservoir of oil and gas is located. While the mixture of oil and gas and marine water shot upward to 68 feet and flare out at 30 feet was very encouraging, in 1962      Anglo-Maremco plugged and abandoned their wells. The oil head in Gansing1 could still be seen today.
On November 25, 1964, Mr. Ignacio S. Antonio a Chief Geologist, in his final Wells Report of Gansing 1 & 2 and Bambad 1 stated that: "Should oil be generated in Gansing in commercial quantity, there is the possibility that the oil could have accumulated in the limestone rocks under favorable conditions. The drilling of the Gansing wells did not reach that depth to disprove this possibility. Thus, the Gansing structure remains an attractive prospect". Our in-house Chief Geologist agreed with this 57-year old assessment of Mr. Antonio on the commercial viability of the Gansing exploration sites.
SKLOGC enjoys massive grassroots support from the people in Area 9. We are also supported by other interested groups in Maguindanao particularly those living in Liguasan Marsh. The Association of Barangay Council (ABC) of Lambayong granted exclusive exploration rights to SKLOGC while the municipality of Lambayong and the province of Sultan Kudarat issued their respective resolutions granting priority exploration rights to SKLOGC. Since the main office of SKLOGC is based in Lambayong, the municipal government has issued us the required Business Permit. SKLOGC also maintains a plush office in the affluent Bonifacio Global City in Taguig City, Metro Manila.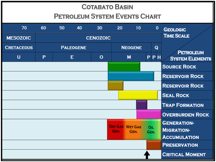 Area 9 is a peaceful area for petroleum operation. The provincial government of Sultan Kudarat headed by Governor Suharto T. Mangudadatu, Ph.D. and South Cotabato Governor Reynaldo S. Tamayo Jr. fully support SKLOGC to include the municipal mayors of Lambayong and Isulan in Sultan Kudarat and Tantangan and Banga in South Cotabato.
As seen in the above chart, Area 9 contains a complete structure required for a valid Petroleum System, a basic necessity for oil and gas exploration decision making. The elements of the Petroleum System in Area 9 include the presence of Source Rock, Reservoir Rock, Seal Rock, Trap Formation, Overburden Rock, the generation-migration-accumulation and preservation of Oil and Gas.
The Environmental Management Bureau (EMB) of the Department of Environment and Natural Resources (DENR) of Region XII has issued on November 19, 2020 the Certificate of Non-Coverage (CNC) authorizing SKLOGC to undertake:
"Energy projects and non-commercial, mineral and fossil mining projects involving seismic survey, gravity survey, geo-scientific, geo-physical surveys,
reconnaissance, exploration, feasibility studies and core drilling".
The CNC is the initial environmental document issued by DENR-EMB to exploration undertaking. Once we proceed to commercial operation, we would secure the next required document which is the Environmental Compliance Certificate (ECC) from DENR-EMB.  
As stipulated by Philippine petroleum laws, SKLOGC is open to enter into a Joint 
Venture Agreement (JVA) or a Joint Operating Agreement (JOA) with local and foreign oil and gas companies for exploration, extraction and production of oil and gas in Area 9. We also welcome foreign investors who are interested to partner with us in the construction of downstream facilities like gas processing plants, power plants, petro-chemical plant, oil refinery, oil and gas pipe lines, sub-stations, transmission lines and transmission towers for the island of Mindanao.
Recently the Philippine National Oil Company – Exploration Corporation (PNOC), a government – owned and controlled organization mandated to conduct oil and gas exploration projects in the country signifies its intention to partner with SKLOGC for the Area 9 project.
Once the required agreements are signed by both parties, we are more than willing to share all available Seismic Data, Wells and General Reports, Technical, Legal documents and approved Work Program needed for due diligence by our partners.
Interested partied could contact us in the following details:
Contact person: NOEL L FELICIA
Position: Chief Executive Officer
Mobile: +63-977-0155333/+63-9085996543
Email: ceo@skloilandgas.com
Website: https://skloilandgas.com
Field office: Barangay Poblacion, Lambayong, Sultan Kudarat, Philippines 9802
Manila office: 1505 One Park Drive, 9th Ave. corner 11th Dr. Bonifacio Global City, Taguig City, Metro Manila, Philippines 1635