Gov't awards Liguasan marsh petrol service contract to SKLOGC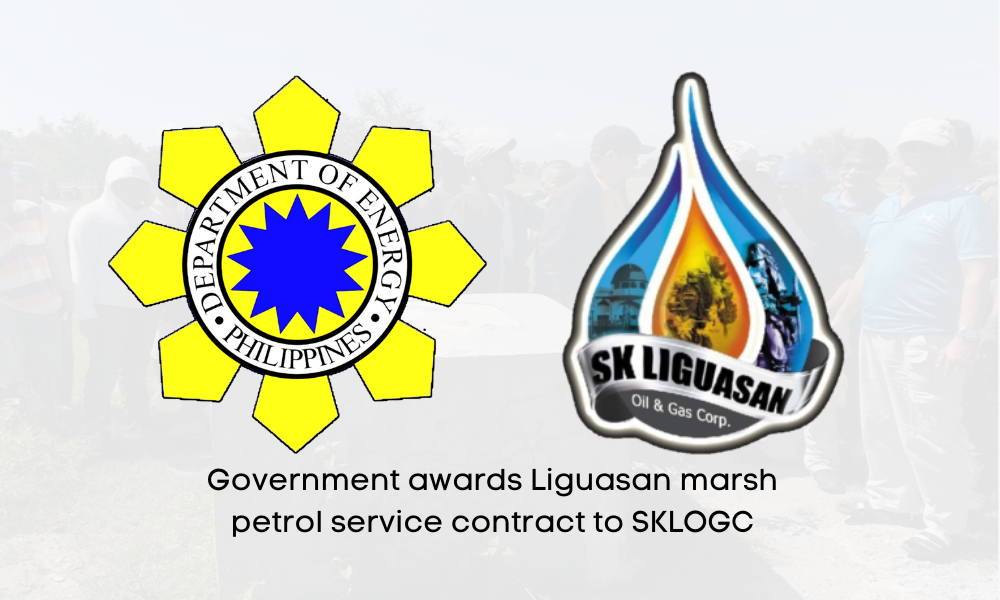 Source: https://mb.com.ph/2022/04/07/govt-awards-liguasan-marsh-petrol-service-contract-to-sklogc/
The government has signed a petroleum service contract on Wednesday, April 7, with SK Liguasan Oil and Gas Corporation (SKLOGC), officially signaling the latter's entry for oil and gas exploration activities at Area 9 of the Liguasan marsh, located in the southern part of the Mindanao River basin.
Energy Secretary Alfonso G. Cusi has confirmed the signing of a service contract with the Filipino company which is headed by Noel Felicia, whose known background has been his stint with the Philippine Navy.
In January 2020, SKLOGC sought for area clearance at the petroleum block in Liguasan marsh, as part of the nomination process under the Philippine Conventional Energy Contracting Program (PCECP) of the government.
The Department of Energy (DOE) indicated in a correspondence to Felicia in 2020, that the agency "finds merit in granting an area clearance for the nomination of the above AOI (area of interest) to the PCECP."
The Office of the President has recently cleared the award of a service contract to SKLOGC, prompting the energy department to go ahead with the signing of a service contract. The PSC extended to SKLOGC is considerably the first contract awarded – out of the 4 to 5 petroleum service contracts being targeted under the PCECP of the exiting Duterte administration.
SKLOGC conveyed that it is ready to shell out capital for exploration activities at Liguasan Marsh, which is seen to have potential discovery that could match the scale of reserves of the depleting Malampaya field.
The awardee-company is basically a new player in the upstream oil and gas industry. There are no confirmations yet from the DOE if SKLOGC will be tapping a foreign technical partner with deep pockets, in case, gas finds at the block will eventually warrant commercial development.
The Liguasan Marsh, which is straddling the southern part of the Mindanao River basin, has also been one of the areas that state-run Philippine National Oil Company-Exploration Corporation (PNOC-EC) has been focusing on for enhanced data gathering and study to evaluate its gas deposits' prospects.
The Liguasan Marsh is a petroleum exploration block within the enclaves of the Bangsamoro Autonomous Region in Muslim Mindanao (BARMM), hence, this is an investment activity that shall be jointly decided by the national government and the Bangsamoro authority, as prescribed under the Bangsamoro Organic Law.
In the company profile of SKLOGC, it specified that its targeted exploration activities had already been cleared by the 27 barangays at its host community in Lambayong, Sultan Kudarat.
The discovery of commercial oil and gas resources – either at Liguasan Marsh or other petroleum blocks – is one of the ardent goal of the government so it can have new indigenous petroleum resources that will help meet the country's long-term energy needs.